Some days in the south of France (September 2003)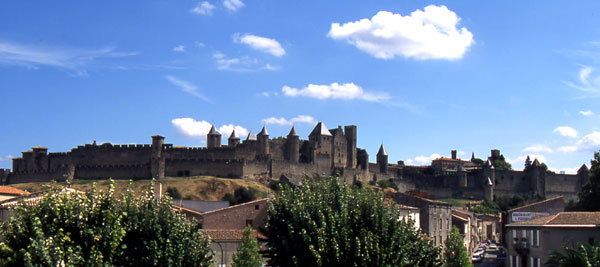 Again, I had to do a business trip- This time, I was about to participate in the European Conference on Power Electronics (EPE) which was held in Toulouse in the southe of France in this year.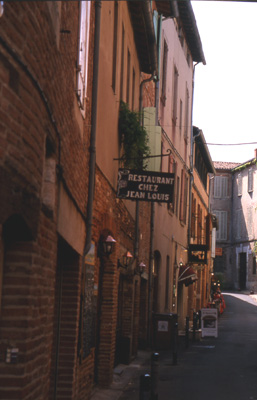 As usual, the conference organizers choose an interesting and nice place for the conference. Since me and a colleague still had left some days for holidays, we took some days off to look around in that part of France. But, as first challenge we had to find a place to sleep after our arrival at the airport of Toulouse about 9pm. We were not to late to get our rental car and intended to go as far as Albi northwest of Toulouse. Unfortunately, the way was longer as expected after a short look at the map, thus we were urged to find some place on the way. Ofcourse there was a number of small hotels, but them all not have a open reception during the night. That's why we decide to stop in the city center of one of the small places on the way to find a pub. Not only fo get a drink, but first for ask for a place. Here, we already were able to overcome with one widely-spread (at least in Germany) prejudice - that french people does not speak English at all even if they are able to do so. While the owner of the pub had similar problem sto speak English as we had to speak French, he quickly find a lady able to speak English among his guests. And, this lady even went home for make some phonecalls to hotels in the city and the surrounding to find a place for us (and she also know well about the 'closed reception problem' of most the places in the area. Thanks to the friendly people in this pub, we only needed to drive another five minutes to find a nice countryside hotel for stay in the night. Although we felt the place is a bit overpriced - a feeling we need to correct in the following days, in fact is was a normal price - we were lucky to have a place for the night which was rather comfortable too.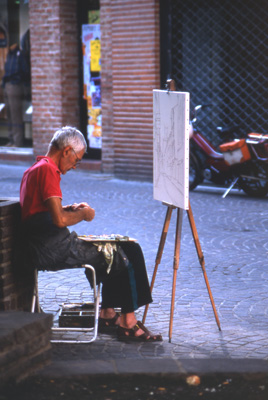 After had a good sleep we found a opulent breakfast buffet in the next morning. More than just satisfied, we continued our way to the city of Albi. Actually, the remaining way was rather short and we found the town owning a old city center worth a visit. Especially, I keep in mind the big cathedral made from brickstones - massive as well as bit intimidating, it was an impressive building. From Albi we continued to Carcassonne, a place which is worldwide known due to its big and well-preserved medieval fortification. But, to talk the truth, I have to tell I heard first from it from a board-game with the same name. Anyway, first we needed to go there and spent again some hours in the car. Obviously, France is not a small country, even if the population density is visible lower than in Germany. Most of the streets outside the towns were empty and the travel quiet. Same obviously, this not seems to be the case any time. Probably because the style of drive a car is more 'mediterranean' there must be a higher number of accidents. That must be the reason why the local government makes use of an alternative and even bit drastic way of give lessons. Everywhere where happend a deadly accident, figures were placed alongside the street. If more than one people die, more than one figure was placed to give a clear und unmistakable sign (anyway the figures look like the one I can remember used by army for train soldiers the shooting). I do not know anyhing, if such things may help prevent accidents or not. But, I am really interested whether it does or not - maybe it is a good idea for other places as well. Finally, we arrived in Carcassonne in the early evening.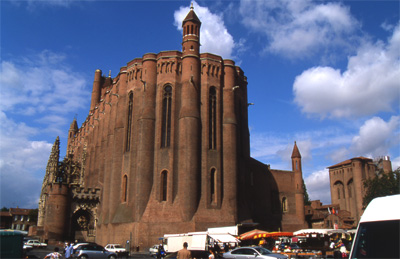 Here we not needed to look for a hotel - this I booked already from home, thanks to modern computer technology and the worldwide web. Although my choice was not an extraordinary or expensive place, it was rather expensive again. But, the hotel was situated in the historical old townand therefore central. While the house was refurbished at least in parts, my colleague first thought it was empty (he also refered to it as a dump first). But, anybody who ever traveled Greece by himself knows how the place looks. I think, it is typical mediterranean style. Anyway, the drastic change of the longtime closed restaurant in the neighboring house to a fully-booked and enjoyable restaurant as we came back from a city walk in the night even surprised me. Food was good, and so was the price. But, this prices were rather normal vereywhere around.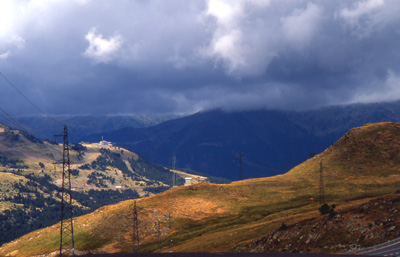 Something which made me wonder, since french people are known for go out to pubs and restaurants. Considering the lower average income (again, compared with Germany), I not expect it. Anyway it is more important what people like to do with the money. And, I more like people want to go out and meet others than only save money to build up a all-the-time new-looking house. Additionally I guess, that people here not need to spend to much money on heating and thermal insulation which also helps to save money for other things. However, every country has its own way.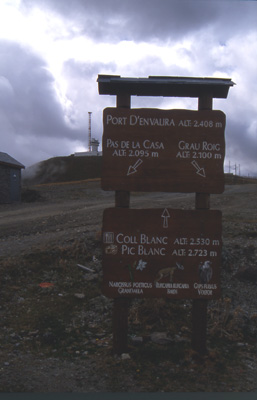 The next day was full with visting the incredible fortification of Carcassonne, called "La Cite". Situated on a small hill, the castle looked really impressive, especially as there were some clouds covering the sun. Then, the fortress became looking something like gloomy and a bit threatening. Inside the massiv walls, as expected, we found a lot of people. Aside the obligatory pubs and restaurants, there were many tourist shops selling the usual things, but also an amazing number of small museums. Surprisingly, it was also possible to find almost empty places and streets. Here, one could feel some of the original feeling of that place. There were even some houses still inhabited by normal people (or at least, they seem to be like that). Probably an interesting place to live, but for me the many tourists would have been a bit irritating. Recapitulating, I guess Carcassonne belongs to the 'must have seen' places in the world. At least, if you are around the place, don't miss it! Our plan for the next day saw a lot of driving again. Basically, we wanted to go back to Toulouse, but first make a visit to the principality of Andorra. A short look to the map clearly shows, that the way from Carcassonne to Toulouse not passes Andorra directly... Indeed we spend a lot of time again on the streets, although our estimations of the length of the way became already more realistic. Nevertheless, the way to Andorra lead us across the mountains - and we not expect the fog on half the way up. There is also the possibility to pass a tunnel, but for this one has to pay and there is no chance to see something from the surroundings. Okay, thankls to the fog we miss some views as well, but as we reached the pass in a height of about 2500m, a magic hand sweeped away all clouds and we had a wonderfull view into the valley of Andorra.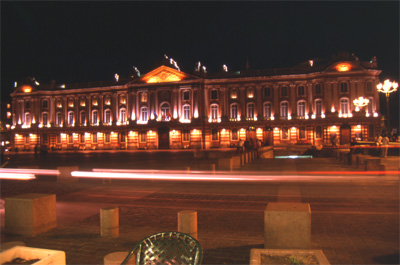 The area immediately following the borderline was some kind of a endless shopping mall offering duty-free goods anywhere. To reach the capital, the way went down again, passing a lot of construction sites for holiday ressorts. Probably, there are many opportunities for winter sports, at least it should be that way according to the number of ski-lifts. The capital itself was full of shophouses and markets again. To find some small comfortable restaurant was a bit more difficult, but not a hard task even. And, it was enjoyable to find out that the trend to bargains continued not only to petrol stations, but also to restaurants.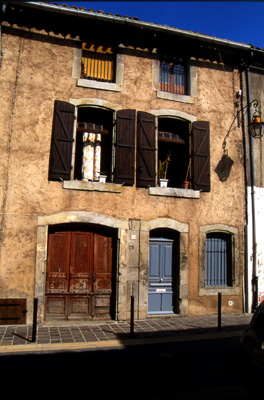 Beside that all, I can not see any reasons why to go to Andorra (maybe people engaged in winter sports have a different point of view), at least it makes not much sense to spend a long time on the road just for come here. I am sure there are a lot of other beautifull spots in the Pyrenees to visit as well, thus it just depends on your own way. The way back to Toulouse - as expected - took some time again. Anyway we arrived before the point to return the car closed. Our hotel was found in the upper floors of the central station. Easy to find, but my room not got a window to the world outside. And the air condition here got the same problem like any other air condition else in the world - it causes some noise. The one here was a better of it's kind, but still to noisy for me to find easy sleep. The next days were filled with work due to the conference, and I had to give my presentation here as well. Fortunately, there was some time left to look around the nice city which is worth a visit indeed. The conference dinner took place some ten kilometres outside the town in something like an old chateau. Anyway the conference organizers had to care for put up something like a big tent to have space for everyone. There were about 1000 people participating in the conference, and this it makes the preparation of such a big dinner a more difficult task. Thanks to the way to reach that place, it was possible to have some look in the surroundings of Toulouse. ofcourse, there is a lot of industries - an airbus is not built up in a small backyard, but there were a number of small spots and villages as well. I think, Toulouse and its surroundings is worth to visit - and probably also interesting for people enjoy drinking wine...