Roskilde Festival 2003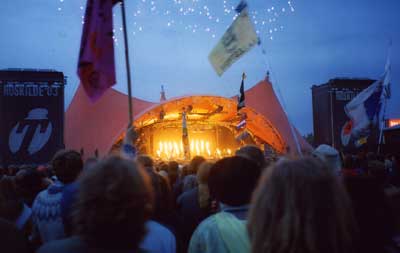 In June 2003, after some years without time or without friends that had some time left too, I managed to come back to the Roskilde Festival in Denmark. Roskilde is a quite little town app. 30km in the west of the capital Kopenhavn. Probably no one would guess, that this is the place for Europe's second largest rock music festival. Every year, there are about 100.000 music fans coming, which have to chose from more or less 150 bands presenting very different music genres at six to eight stages. And, noteworthy, the festival takes place now for more than 30 years! Therefore, a small group of people from Ilmenau departed for Denmark at the evening of June 25th. During our journey, we further could realize the good and less good things of the new bus of the 'Ilmenauer Studentenclubs'. This is a kind of union of about 150 people working voluntarely in one of the five local student pubs here.
The new bus clearly owns a much more powerfull engine (compared with the old one) which is a real advantage - but there is a clear drawback as well, there is much less space now. But, we were only six people, therefore we could remove two of the seats. After that, everything was fine ...
In the end, we reached Roskilde much faster than expected. But, nevertheless, there were only empty parking sites at the West End area. Also, looking for some free space to build up our tents took a while. Nothing really new, everything was similar to earlier visits. Even the location where we put up our tents was the same as before... a good thing for me to find the right way home in the morning! Of course, we had to walk for 25 minutes and to carry all things we needed - tents, food, drinking stuff...but this did not come to the fore as a real problem :-)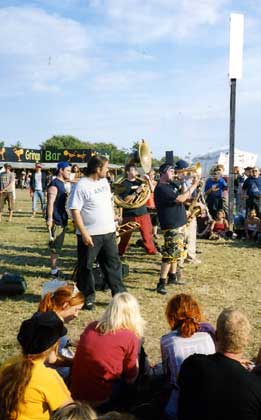 Finally, every tent was put up and the really important things of festival life - there were four days to survive - arrived safely at the right location. Time to have a little sleep. At 5:30 pm the festival was officially opened at the Orange Stage - the main stage of the festival and the only one without a roof. No wonder, since all of the visitors will find a place in front of that giant stage. After the opening, I went to ballroom stage which is intended to present music from all parts of the world. Although the most bands I ever enjoyed here were unknown before, I never expirienced a real bad performance. As it has been today too - first concert was given by the Youngblood Brass Band from US. The played some party music more or less completely using wind instruments. Great! Later, a band named Gogol Bordello presented a nutty mixture of serbian and jewish music and punkrock. But, the headliner of the first day was undoubtless Metallica - and at their concert even Orange stage seemed to be small. Fortunately, Metallica went back to their roots, playin' real rough rock music. But, there was also something to look for, thanks to the pyrotechnists. Therefore, the athmosphere was simply overwhelming which inspired the band as well - the band played almsot two and a half hour. Unfortunately, we were not able to go for the show of David Gahan - it's a hard festival live... The next day we realized that we had more than enough beer (at the ferry boat, they took only the money for five boxes instead of six, but probably they will not act that way regularly...) and other alcoholic beverages, but only a few bootles of mineral water. Thus, we drove to a nearby city, cancelling the trip to Kopenhavn in favor of a visit by the sea. Since all streets to Roskilde were already stuffed, we went in western direction.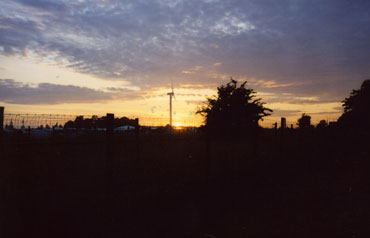 Finally, we really managed to buy some water and bread and arrived at the sea indead. There we started to have lunch - warming up some soup. There was only one thing missing - the cutlery. But, cutting up some empty beer tins did the job too... Back at the festival side, I started again at ballroom. Here, Ojos de Brujo from Spain played up for the first party. After this, we just looked around the festival area, arriving back at ballroom for great argentinean band Karamelo Santo, a real highlight. I booked this band one year before for our small students club - but it was a big difference what the band was able to do with an audience of 5000 people at a stage much larger than our whole club. At 9:30 pm, the biggest highlight (at least for me) started with the show at Orange Stage - Iron Maiden. Therefore I left dinner to get a nice place in the crowd even my friends were a bit amazed.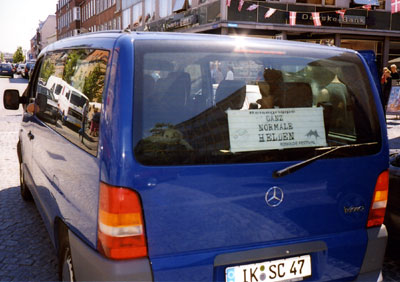 Consequently, I got a good place not to far from the stage. And, it was worth to leave some minutes erlier - very nice show which was done by musicians rather elder. There was a continuing party from the first song. And, Bruce Dickinson once more showd what a good shouter should act like. After that show, there was some time left until Coldplay started, therefore we looked around at the other stages. But, there was nothing which I really liked. And even Coldplay was to quite although they played excellent songs. Finally, I picked of some more party music by Brasil'S DJ Dolores & Orchestra Santa Massa. After that, I was pretty tired, but returning back to the tent I experienced that I needed more than just being tired. There were some pretty drunken boys calling everybody to join' there party - very noisy, but there was of course not really something like a party. But maybe, I got a different opinion about that, but a party should be something more than just stupid drinking as much as possible. Thus, never forget your ear muffs - quite usefull under these circumstances even if they will not supress very noise...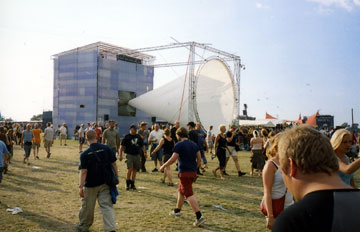 Late Saturday morning we decided once again to spend some time at the sea, but today we prefered a beach goin' Southeast. Moreover, the weather was still great and the Baltic Sea reasonably temperatured, and today nobody forgot his cutlery. Today's first band played at Metropol Stage, which was intended for electronic music as well as for DJ's. Lemon Jelly were a mixture of both, two DJ's which played some instruments too occasionally. Passing by Ballroom, where the music just presented was really not my cup of tea, we lookd up at Odeon Stage. Here, a band called Jaguar Wright had the right feeling for a impressive mix of Soul and R&B. Later, Fu Machu rocked Orang Stage, and after that show we got some food and drinks at our tents. Back at the festival area, Blur just started at Orange Stage - but they were surprisingly boring.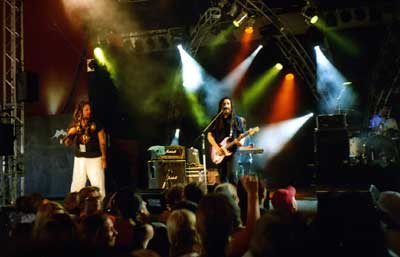 Since alternatives were a bit rare that evening I found myself sitting in a food tent and having a Shisha. At midnight, Immortal showd up at Arena, the second largest stage covering about 17.000 people in the tent. Although Immortal are a typical black metal band, they did not make use of that terrible skreaking voices. Thus, it was something smashing your ears, but it was not bad. The final show at the main stage was performed by the Cardigans which played more or less a show virtually at home - considering the large part of the festival visitors who are coming from Sweden. Although the show was more relaxed than I expected it was quite good. Later on I crossed up at one of the few german bands here. Console where placed at the Pavillon Stage, which is the smallest one.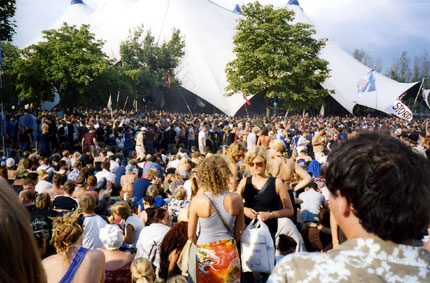 But, the music of them was more technical and a bit boring after a while. Therefore, at Ballroom just started a kind of a african DJ - Dance - Mixture, making a lot of people dancing and partying. Nevertheless I got tired more and more - not that big surprise since it was already sunrise... Sunday was the last day. Before the music went on, everything had to be stored again in our bus. Unfortunately, the only rainfall during the festival came on our way to the bus. But, nobody cared about it and we had our last festival lunch at the parking site. Back at the festival area, the rainfall just stopped and we had to choose to show up at the Hellacopters at Orange Stage or to go for Junior Kelly at Ballroom.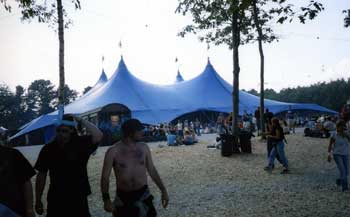 Some time later at Arena Stage, The Datsuns from New Zealand gave their show - a real surprise for me. Just like a younger reincarnation of AC/DC, they played very powerfull straight rock music. Completely different from that kind of music were Gentlemen & The Far East Band from Germany at Ballroom, who had their very own combination of Reggae and Dancehall. Alternatively, The Queens Of The Stone Age were rockin' Orange Stage. Later, Massive Attack showed up at the overcrowded Arena Stage which obviously was much to small for that great band. In summary, the music programm at this day was very interesting and differing and found a genius end with the final concert of the festival. It was Björk from Island, and that concert was just brillant - in all terms. After that, we went home and arrived back totally tired ten hours later ...