Overview about travel route (February/March 2002)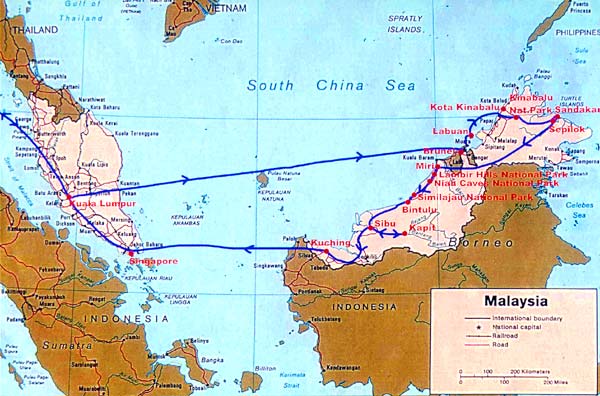 During winter time in 2002, my travel destination was Borneo. Once on thy way, it was some kind of self-evident to make stops in the capital of Malaysia - Kuala Lumpur - and in Singapore as well.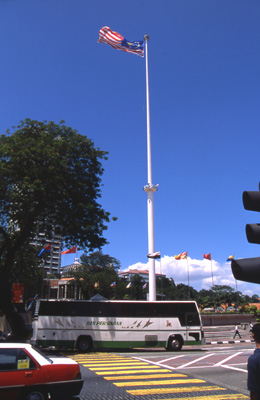 Although we got five weeks of holidays, it seemed to be impossible to travel whole Borneo. That's why we limited our journey to the north of Borneo - the malaysian states of Sarawak and Sabah and the Sultanate Brunei Darussalam which is rather unknown in Germany. In preparation of any travel it is usefull to waste some more thoughts. In Malaysia, there is a pretty large number of public holidays and celebration days, although many of them are regional only. In the time of our journey, there were Chinese New Year Celebrations as well as school holidays. During school holidays, a lot of Malaysians are travelling around which makes it sometimes difficult to get to another places. Moreover, many places from interest - as for example National Parks - are crowded with people, therefore one should care at these things. At our arrival, Chinese New Year Celebrations just were about to start. But, I did not know that these celebrations lasts for two weeks. The most spectacular events are at the end of this period, therefore not that much happend in Kuala Lumpur during our stay there. From Kuala Lumpur, we went to Brunei Darussalam by plane. As another hint, ask the airline about the number of stopovers, if there are any. In case of Malaysian Airlines, spending some more Euros enabled three stopovers which figured out as good. But, from Brunei we went to Sabah capital Kota Kinabalu by boat via Labuan Island - collecting a lot of stamps in our passports. It is a peculiarity of Sabah and Sarawak, that both federal states have own immigration - therefore we get some routine in filling out the embarkation cards again and again.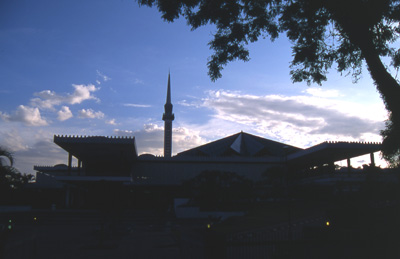 In Kota Kinabalu, we obtained all the permits necessary for visting Kinabalu National Park and climbing up the peak. After mountain hiking we took a bus for Sandakan and later to Sepilok Orang-Utan Rehabilitation Center. From there we went to Miri in Sarawak taking a plane. Miri is some kind of gateway to visit Lambir Hills and Niah Caves National Parks, at least one gets all necessary permits here. Nevertheles, it is worth a visit as well, especially at the end of Chinese New Year celebrations - here I was able to see some traditional dragon dances which you should not miss anyway! I furthermore strongly recommend a visit at Niah Caves - it is probably the worlds second largest cave with a main cave height of about 70m and a diameter of 250m! Next station was Bintulu, a boomt-town developed mainly due to petrol industries. Here we went for permits for Similajau National Park which occupies a part of the coast of South China Sea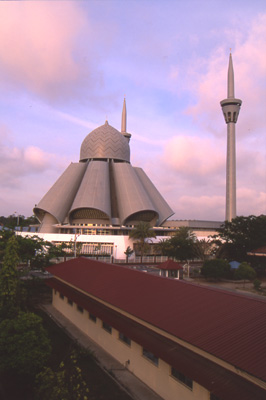 - a beautifull spot where we were alone completely. Later we went upstream Rejang River to Kapit in the heart of Sarawak jungles, which is accessable by boat only. To go further from that place, one needs a special permit. But, since we already run out of time, we continued our way to Sibu, the second largest malaysian town at Borneo. Sibu is mainly a chinese town and a trade center. From there we continued to Kuching, the capital of Sarawak which is called after the malaysian word for cat. Consequently, there are all kinds of cat statues in the town as well as the worlds one and only cat museum. Away from this, Kuching is a very pleasant town with a bautifull chinese quarter and a lot of things to do and see. From Kuching one might easily go to Singapore by plane which was our last station before returning to Germany. Last but not least, some comments. If visiting Malaysia, do not expect old and glorious things. Traditionally, many buildings were made of timber which was easy accessable. But, timber buildings withstand the hot and wet climate just for about two centuries... Moreover, Peninsular Malaysia never has been populated with many people - even now there are just 22 million, where 18 million of them live at Peninsular Malaysia and only 3 million at the malaysian parts of Borneo. Even the worldwide known cities of Kuala Lumpur and Singapore were founded late during the 19th century, therefore no chance to find ancient buildings again. If you want to see ancient things - head up for India or Thailand. But if you are interested in cultural diversity and an outstanding nature and in friendly people, you will discover that Malaysia is a great place to go for.