Some days in Laos (March 2004)
Our short trip (just six days) to Laos was more or less our honeymoon after our tradional thai marriage. Therefore the trip started in Korat (Nakhon Ratchasima), where we spent the evening before with some friends after we said good-bye to my relatives at Bangkok Airport.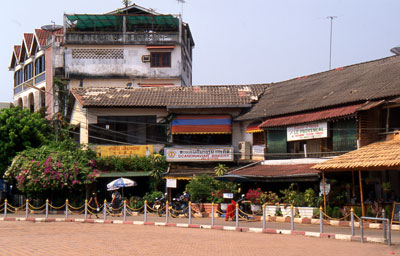 The first few hours of our trip we spent in a crowded and muggy bus on the way to Udon Thani. At least we had a place to sit, thanks to the local way to make a seat reservation - just put some bag on the chairs as early as possible. A good idea as long as you do not travel along the more popular tourist routes where you usually get a reservation while bying the ticket. Ofcourse this method only works at the first station where the bus leaves. While waiting for the departure you easily can take a snack and drink - as anywhere in Thailand you will find good and cheap food just a few steps ahead. In Udon we had to wait about 45 minutes for the next bus in the direction of Nong Kai, the last place before the border. In this time we made some passport pics, since we probably might needed them when applying for the visa-on-arrival in Laos. Later in the bus, most people with the intention for crossing the border left the bus some kilometres before Nong Kai. So we did as well and took a Tuk-Tuk driving us to the so-called friendship-bridge acroos the Mekong River - the borderline between Laos and Thailand. The driver tried to scam us several times while stoping at dubious shops selling visa to Laos. The main argue was that on Sunday no visa are sold from Lao Immigration Office, but we decided to ignore him. For me, it was just a bit strange that one can buy visa for another country just beside the street, and ofcourse these visa were available for almost the double price as quoted from the Lao Embassy in Bangkok.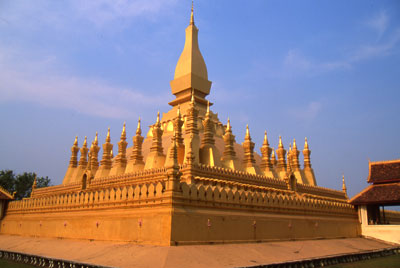 Arriving at the Laos Immigration Checkpoint we easily get our visa after half an hour, spending 31 USD each. From there we were looking for a bus going to Vientiane, the capitol of Laos which was just 25 kilometres away. Before we catched a bus we first needed to rescue a small sheep, which by unknown reason walked down the rather deep ditch. Due to the steep slope there was no way up again for the little animal, thus the sheep stood down in the mud and bleated for it's flock. Luckily for us the sheep was not to much devoted to it's rescuers and quickly followed the big sheeps instead us. Like in return for our help a bus passed by quickly after, although a really old and ramshackle one. Already on the street to nearby Vientiane, which means that we had been in the capital region, it was easy to find out that Laos was much poorer than Thailand - in fact Laos belongs to the ten poorest countries in the world.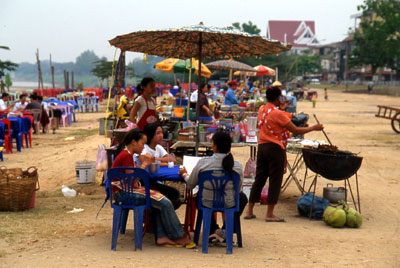 Vientiane itself is a nice place, especially along the bank of the Mekhong river with a lot of simple but enjoyable restaurants and e great view. After changing 100 Euros into Lao Kip, I was a millionaire for the first time of my live - at the bank I got a remarkable roll of brand-new banknotes valued 20.000 Kip each. The next day started with a big surprise. After leaving from breakfast in a small cafe some streets down from our hotel, someone called me from behind as we wanted to start our sight-seeing in Vientiane. The owner of the voice quickly turned out to belong to an old friend from Ilmenau, who loves to travel around the world and who just stayed for some weeks in Laos. Funny thing, especially since we did not met in Ilmenau (a rather tiny town in Thuringia/Germany hardly counting 25.000 people) for yonks. Ofcourse our sight-seeing experienced some delay.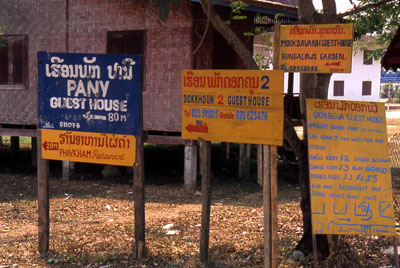 Since he lived at a friend working as teacher with the german embassy, he got some interesting and not publicly known news. Obviously, travel with buses was not that safe as regularily stated in the local newspapers and also the guidebooks. Just some days before a bus was attacked and and the passengers shot on the way from Vang Vieng to Luang Prabang - which was exactly the same route as we intended to go. Therefore I decided that it is more safe to return to Vientiane after our visit in Vang Vieng and take a plane to Luang Prabang. Thus, after our meeting with my friend we first stopped at a Lao Aviation Office. It should be mentioned that the local airline does not have a good reputation, but at least them used one of the two new planes on the route from Vientiane to Luang Prabang, a Unesco world heritage site. After this we finally started our sight-seeing and rent to bicycles. The first stop was at a building looking like a copy of the Arc de Triomphe in Paris. From there we found our way to one of the national symbols of Laos, the large golden Stupa Pha That Luang. Together with the buildings around really worth a visit, especially since the construction of a giant temple just around the corner should be finished in between. From here, we looked around the city without a special route, just follow some ways where we thought it could be interesting.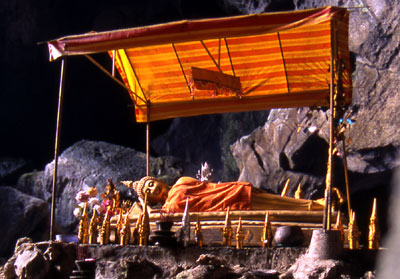 The next day we went to Vang Vieng, well known by the many and sometimes also very large caves in the surroundings. First we needed to find our way to the local bus station, where we took breakfast at one of the many food-stalls (which were not that clean than in Thailand, not to talk of Singapore...). Thanks to the fact that thai and lao language are rather similar, my wife could easily talk with the locals. Thus we could make our way in one of the normal busses. Usually, tourists are sent to the more modern but also noteworthy more expensive tourist buses - probably more comfortable, but also less authentic. About three hours later we arrived in Vang Vieng. It's bus station was simply a large square without any visible sign that it is the bus station. For compensation, there were a lot of signs promoting local guesthouses and hotels, anyway we followed the hints of my friend from home and made our way to some bungalows at the river side.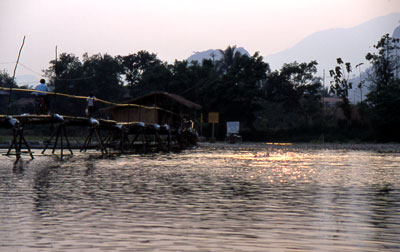 After the check-inn we rent some bicycles to get to the caves. Firts we wanted to visit the most far-away one, but first we needed to cross the river. There was a tiny wooden bridge, just offering a small path probably intended for walkers only. Nevertheless we went there with our bicycles but suddenly a hand came out of the window of a very small room and stopped us. Surprisingly for us, everybody had to pay some thousand Kip when crossing the bridge. The caretaker comes from a family of the village, and every year another family has to take care the bridge (and to earn the money) - thus everyone got a chance, which seems to be a good idea. After the bridge, there were about six kilometres on stony pathways. We passed several villages, where the people lived in very basic houses which often had one room only. Water was just available at the next river or stream, and later in the evening more or less all people from the village went to the water for washing themselves. As we had reached the cave we first needed a small break, and thanks to a small shop we could enjoy a cool beer. After we scrambled up to the cave which was rather large and even contains a small shrine enhousing a sleeping Buddha.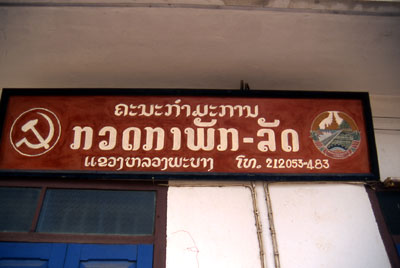 Cycling back for six kilometres again and making a lot of photographies, we first needed a shower. Shortly after some monsoon-like rainfall started and lasted until about 9 pm. Just enough time to get some food being already the last guests. Later we switched to one of the many small bars and enjoyed some drinks. The next morning we took breakfast and cycled to another cave, where we needed to rent some lamp. While this lamp was really necessary, the cave itself was much smaller than the one visited yesterday. Back from the cave we took some short shower and took the bus back to Vientiane Airport for our flight to Luang Prabang. Among other people, there was a group of spanish guys which thought to sing almost all the way. Unfortunately, them were not even able to meet at least some of the right notes, thus them were only noisy. Although the locals were polite as usual, it was easy to see their lack of understanding of this kind of entertainment. Somewhere half the way an accident had happened - although there was almost no traffic a little bus managed to smash into the bushes.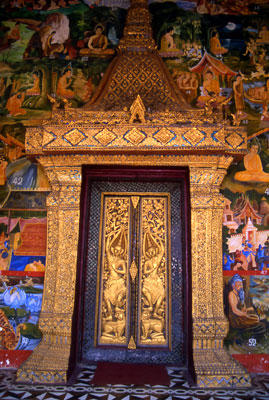 We left the bus at Vientiane Airport, which was a large new building. Here we took a beer waiting for our flight, until we realized that we were in the wrong building. It was the international airport, but the flight went to Luang Prabang thus it left from the national airport. The national airport was just a barrack next to the new buidling which looked like someone forgot to knock it down. Fortunately our plane was in obviously better state, and together with just nine other passengers the plane went to Luang Prabang. There we needed a Tuk-Tuk to reach the city, and the driver quickly give us a lesson on how to get money two times. Instead of driving us into the city as we asked, we found ourselves at a rather luxury hotel out of town - thus we needed the drivers "service" a second time. Since it was already evening it was not that easy to find a room - most of the guesthouses were already completely booked. Finally we followed someone who offered a room, something I usually try to prevent. This time it was not that bad, the room was clean and spacious and the price was normal. After we went into the city and looked around the night market before we went for dinner. The next morning we were urged to change the room since the lock of the door was broken - good that we had only a backpack each. For breakfast we went along the Mekhong River, where it was easy to find a restaurant. Later we again rent a bicycle for look-around the city and organized a Tuk-Tuk for the next day to go for visit the huge Kuang Si Waterfall. Close to noon we started to look around Luang Prabang. The place really got a lot old and very beautiful temples, each one worth a visit. One of them was situated on a small hill overlooking the city, taking us 320 steps to went up. The town also got lots of old colonial buildings in french style, most of them reconstructed - no wonder Luang Prabang is on the list of world heritage sites. Ofcourse we also enjoyed the local food, later we made a rest on the river banks, where many locals went for swimming.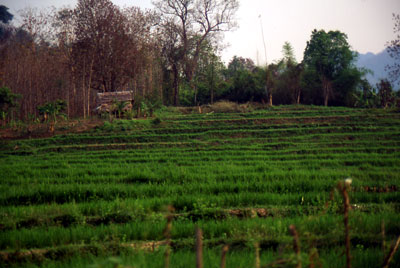 The next day we returned our bicycles and started with the Tuk-Tuk - 30 kilometres along bumpy roads. The villages here looked even more poor than the one we hade seen around Vang Vieng. Also the landscape looked rather dry - the few rice fields with it's fresh green were a strong contrast. Around the waterfall itself were a lot of small pubs and restaurants, indicatinga large number of visitors in high season. The waterfall itself got it's name right, although there must be much more water in the rain season. Close to the waterfall the air became cooler and fresher, and there was a water bassin, inviting everybody for go swimming (which we did). Later we climbed up the small hill of the water fall until we reached the top rather suddenly. While the water was moving slow here, the view was phantastic. Returning down we took another bath and went to one of the restaurants to get Som Tam (papaya salad with lots of chili - very hot but delicious), some soup and a beer. On the way back to Luang Prabang we passed a lot of school boys and girls, easy to identify thanks to their school uniform (similar as in Malaysia or Thailand). Unfortunately them not only needed to walk but also to survive the dust raised by our Tuk-Tuk even it drove slow.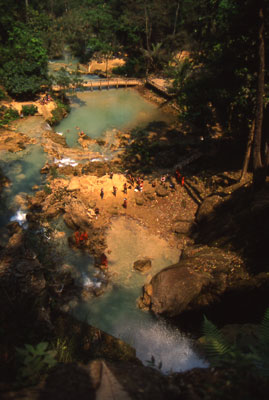 Back in the hotel we packed up our backpacks already before we went to the market in the evening. Here we bought some shirts and lao coffee, after we went for dinner. Here I needed to try the local liquor called Lao - a strong and dangerous alcohol made from rice. It did not really taste, thus I decided that one is enough. The next day was lost for travel back to the village of my parents-in-law in Thailand. Thus we practically needed to cross the north-eastern part of Thailand completely, since the village is situated close to the cambodian border. The most comfortable part of the trip was also the first part - the flight to Vientiane. Here we arrived at the infamous national airport with a very very tiny baggage claim - and this time the flight was fully booked. After leaving the airport buidling we ignored the taxis in front of it and walked to the main street instead. My hope was to get a bus directly to the border, but in the end we shared a Song Thaew with other backpackers for 40 Baht each. To leave the country it was mandatory to pay another fee (if possible in US Dollars instead of Lao Kip), after we took the border bus to the Thai Immigration Checkpoint. Here everybody needed to leave th bus for fill-in the immigration cards while the luggage could be left inside the bus. This obviously took more time than the bus driver wanted to wait, therefore he suddenly continued it's way. Since I expected our belongings still being in the bus, everybody could enjoy a short sprint of me - until I realized that everything was placed at the bus stop already. At least the border police had some fun, and finally we reached Nong Kai bus station. Here we had good luck since we got the last bus to Korat which was scheduld for 4.30 pm. Unfortunately this bus was slow since it stopped often to have a long break. Alone in Udon we had to wait for one hour, thus we reached Korat as late as midnight. From Korat, we still had a way of 250 Kilometres to go. Till Pakhon Chai we were able to take a local bus, but from there we were lucky to catch one of the pickups serving as taxi. In the end, we arrived at 3 am after 18 hours of travelling.