About this website
Although I got the idea for these websites a long time ago, it took some time to realize it - mainly due to missing some time to do it! But, right now I am more or less satisfied about the results. At least I was able to manage the change to a CSS based layout of this website, and I am optimistic I can incorporate some improvements in the near future.
Some remarks to the reports in the travel section. It is out of my scope to replace travel guidebooks - there are a lot of these and there are also some good ones. Thus, in my opinion, it makes not much sense to write another one. I only want to give some impressions and tell maybe some stories from the country I visited. It up to you, the valued visitor of this website, what you will use it for.
It is similar in case of the photo section. The photographies I placed there only by one reason - because I think they good in my impression. I not want to do some competition with professionals - if you like them, then it all I want.
At last - the work section is about my job (I guess, it not hard to expect...). Most probably the majority of the visitors of my website will find the things there rather hard to understand. But anyway, if you interested in power electronic devices by whatever reasons, you are welcome to have a look...
About me
Finally, at least some personal information about me. I was born in the nice year 1970 and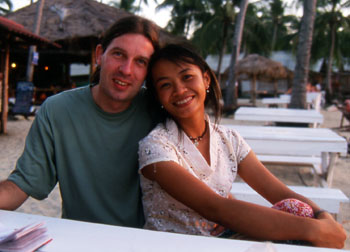 grew up in the town of Halle at Saale River in the eastern part of Germany. Since I started with my studies, I live in Ilmenau in Thuringia - a smaller town surrounded by some hills and forests. For almost 15 years, I studied and worked at the Technical University of Ilmenau. As you may already found out by yourself, I not only spent my time at work. I like to travel and get in touch with other cultures and people, and I also enjoy in photography.
On March 9th in 2004 I married my girlfriend from Thailand following a number of Thai traditions. Thus, I not only expirienced the usual excitement but also had to found my way through traditions which had been, at least for me, completely unknown before. Anyway, this day was as much exciting as it was unforgetable. Since June 19th 2004, I am also officially married and come over all the troubles which probably are hard to avoid. Due to the fact that authorities of two countries, Thailand and Germany, were involved, everything take a lot of efforts, time and also money. Surprisingly, our change to Austria (where I work at Infineon Technologies) did not cause serious problems. And, after spent half a year in a hotel appartment, it is rather comfortable to have an own flat again (and to have all the things back that we believe we need...).
Thus, we now live in Villach, situated in the triangle of Austria, Italy and Slovenia. Surrounded by mountains and a noteworthy number of lakes, it is one of the better places to live. Even the sea is not to far away, but for beinga perfect place public traffic and night life need some more development. But, maybe it is good that the place has some imperfections...