Stopover in Singapore (March 2002)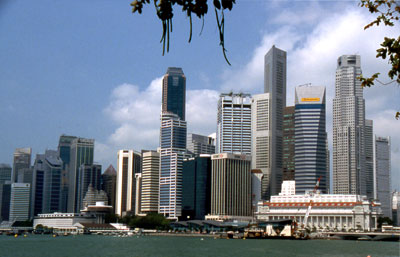 A visit in South East Asia without staying in Singapore is probably incomplete and something unlikely. The Lion's City at the southern point of Peninsular Malaysia is a major hub for almost every kind of transportation. For most travellers, modern Changi Airport in the East of Singapore is the first and probably last station during their stay in the small country. In difference to my first stay here some years back, where I arrived and departed via causeway to Johor Bahru, I arrived by airplane from Sarawaks capital Kuching this time.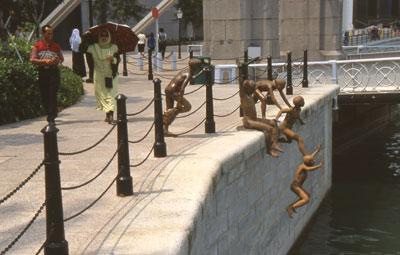 Fortunately, MRT system (the subway) was connected to Changi Airport meanwhile. Therefore we directly went into the heart of the city state to find the hotel of our choice. I still could remember the very basic guesthouses in the lowest price region from my last stay, where the walls were made from plasterboards, being hardly more than blinds. This time we took a middle class hotel named South East Asia Hotel, situated in between Colonial District and Little India. A twin room made 77S$, staying in line with prices in Germany. Otherwise, everything was just fine, and even the AirCon was pretty quiet - good for sleep.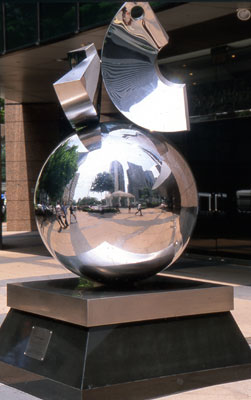 Another advantage was given by the central location, thus the most of the interesting places (as Chinatown, Little India, Colonial district and Central Business District) could be reached by foot. In front of the hotel was a pedestrian area, of course used for some kind of market selling everything from DVD's to fruits. Around the corner were a food market with two floors of hawker stalls, and next MRT station was just a 5 minutes walk away.
Beside sightseeing, we had to do some shoping as well - something what Singapore is most qualified for. Nevertheless, we failed to find a tailor the first day (suits are either wrong sized or too expensive in Germany), since we simply were looking at the wrong places. We solved that later by asking. Thus, we filled up our stocks on photo and camera accumulators, laser pointers and McLight flash lights which are pretty cheap here. Also I found some stores where I could by CD's of local artists, but CD's are as expensive as in Germany. At least if you buy official ones in a music store. The first evening we spent in Colonial District and at the pub district at Singapore river opposite Raffles place. Here, the founder of modern Singapore, Thomas Stamford Raffles, arrived in 1819. Nevertheless, there were settlements and several cities dating back as far as 13th century.
The small pub district is formed by modernized old houses, offering some nice flair. In difference, Singapure mostly consists of modern skyscrapers, but there are no alternatives to accomodate more than three million of people at very limited area. Admittedly, the prices for food and drinks are high even for Singapore while staying here.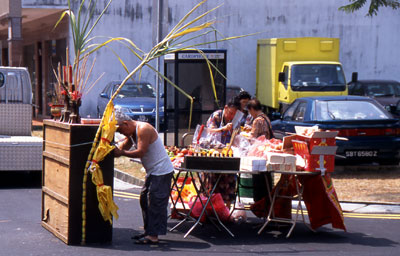 At the second day we started again in the city center, more exactly at Marina Bay to take some photographies of the skyline of Singapore. Later, we walked through the Central Business District (CBD), which has some special kind of flair despite the high concentration of large skyscrapers here. Supposeably, this is caused by the difference look and architecture of all these skyscrapers, which is pretty different from such architectural boring places as, for instance, the Potsdam Square in Berlin. Moreover, there are some surprisingly old parts of Singapore left even in this very modern part of the city - some old chinese temples, a church and things like these.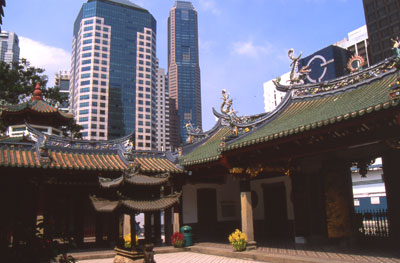 From CBD, we continued our walk to Chinatown. Here, everything was reconstructed and looked pretty well. Obviously, this is not a place to live for the poorer people of Singapore. After the noise and hecticness of CBD, Chinatown was a pleasant quite place with a lot of things to see. After walking through the town most of the day, we decided to take MRT on our way back since our legs felt tired.
For the evening we tried to taste a original Singapore Sling. Best place to do that is most probably the Long Bar at Raffles Hotel, but it failed by any reason. Thus we spend the evening in Somerset Bar of Raffles Placa Hotel and got some Live Jazz as well in this location. Nice place, and although the Singapore Sling was done in a different way that I knew before, it tasted just fine. As expected, prices were rather high too ...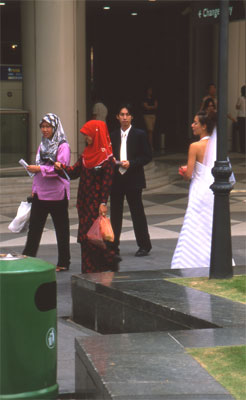 At the way home we were curious about all the small boxes applied to every car and every motor-cycle. Asking some taxi drivers, we learnt that these devices served for automatically paying of the toll while accessing streets of the city center during the day. Basically, government reasoned that tolls by aiming to reduce traffic, but the taxi drivers got a different point of view. Therefore, they renamed ruling PAP (Peoples Action Party) to Poor Also Pay ...
Next day was reserved for sightseeing. At first, we went into Arab Street visting Sultan Mosque, a very impressive and beautifull building. The neighborhood was mainly formed by traditional old houses, mostly reconstructed, even if not that high efforts were spent as it was done in Chinatown. Only some footsteps away is Little India - and indeed one could think entering a different country. Streets were filled up with typical faces as found in India, and there were a lot of small indian restaurants, filling the streets with different odours - a good place for having a good lunch.
In the afternoon, we visited Singapores No.1 fun park, covering complete Sentosa Island in front of the giant harbour. To go there, you can choose either of taking a bus, a ferry boat or a cable car from local World Trade Center. The last alternative is most probably the most favourable one since you will get a great view over the harbour and the city.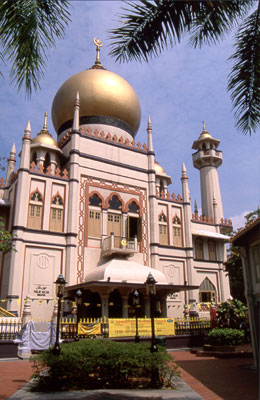 Otherwise, it is the most expensive way to reach Sentosa Island as well. The island itself is stuffed with every kind of attractions, and it becomes to your favors which one to visit. In my opinion, no one should miss Underwater World, where a transport band through an acrylic tunnel leads through the main tanks while all manner of fish swim around you in all their natural technicolour glory. Beside this, there are all kind of aquaria and presentation boards and even a touch pool most attracting the kids. Another beautifull spot is the Dragon Walk - a small trail through the remaining secondary jungles of Sentosa Island. A number of displays tell things about the local flora and fauna. To keep the trail interesting, there are a lot of giant dragon statues completed by some stories not to be taken too seriously, causing some smiles at the visitors faces. Furthermore, the singing fountains are just worth a visit, but away from all these things we decided to take a bath in the sea, choosing the beach offering a look to the equator... Vistors of course do not need to walk that much since a monorail has been constructed for an easy access of all places at the island.
The last day of our stay was a bit limited in time. In the evening, our plane was leaving back home. We considered it a good idea to visit the Zoological Garden of Singapore with got some good reputation. And indeed, it is a very beautifull place covering a reasonable large area. Unfortunately, the weather was very rainy that day, reminding us at the weather in Germany.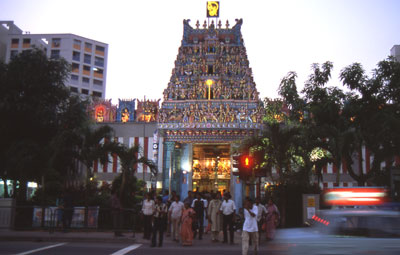 Since it offers less fun only to walk around the Zoo and the city with completely wet clothes, we had to stop in several places longer as expected to keep dry. And, we used one of that tourist vehicles to go back to the main gates - obviously, there is always a reason for evrything's use. In summary, Singapore is worth a visit. There is the fascination of a real Megapolis and the many faces of a multi-cultural society (which is expressed also by the fact that four official languages are spoken: Mandarin, English, Malay and Tamil). Last but not least, the small old spots in the sea of skyscrapers offer some special kind of flair...